The list of Marriage Dates 2022 by Astrochecker provides a detailed description of auspicious Vivah Muhurat 2022 dates for your big day. For a marriage ceremony in 2022, here is an article based on the elements of Vedic/Hindu Astrology.
Marriage Muhurat In 2022
The wedding day is one of the most important days in a person's life. On this day, two people begin a lifelong journey together, vowing to be there for each other through ups and downs. When it comes to such an important day, people want the "Stars" to be in their favor, therefore, they go to great lengths to make this day perfect. Kundali matching and Guna Milan are part of this process, where 18 out of 36 factors in the kundalis of the bride and groom must match. There are many other rituals and procedures that follow, such as finding the right marriage muhurat.
We have compiled a list of auspicious dates and times for marriages in 2022 with details in this article on Marriage Muhurat 2022.
Hindu Marriage Dates In 2022 : vivah muhurat in 2022 Dates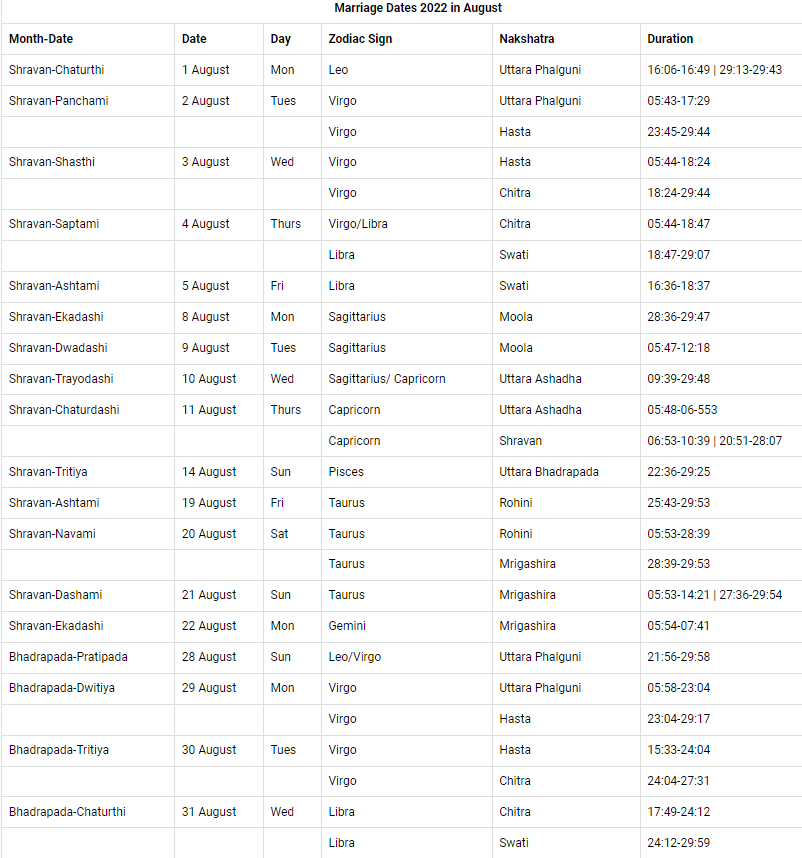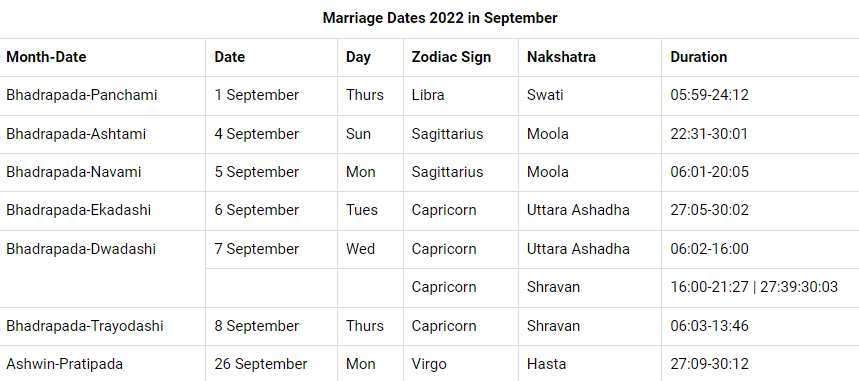 End of Devshayani Ekadashi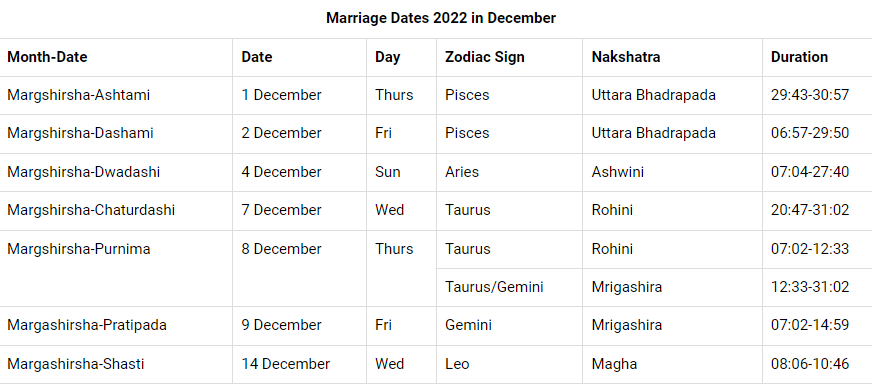 Considering the following factors when calculating the marriage muhurat for 2022
When choosing a Marriage Muhurat 2022, take only the solar months into consideration. A marriage ceremony is only performed during the period of four lunar months after Lord Vishnu goes to sleep during Chaturmas. According to Muhurata Chintamani, the best time to marry is when the Sun is transiting the following signs of the zodiac in 2022:
Aries
Taurus
Gemini
Scorpio
Capricorn
Aquarius
If the Sun is transiting through the following zodiac signs, it is unfavorable to perform a marriage ceremony:
Cancer
Leo
Virgo
Libra
Sagittarius
Pisces
As part of the Kharmas calendar, marriages are prohibited during the month of Sagittarius.
---
The Auspicious Nakshatras
A marriage ceremony is considered highly auspicious in 11 of the 27 Nakshatras.
Rohini (4th Nakshatra)
Mrigashirsha (5th Nakshatra)
Magha (10th Nakshatra)
Uttara Phalguni (12th Nakshatra)
Hasta (13th Nakshatra)
Swati (15th Nakshatra)
Anuradha (17th Nakshatra)
Mula or Moola (19th Nakshatra)
Uttara Ashadha (21st Nakshatra)
Uttara Bhadrapada (26th Nakshatra)
Revati (27 Nakshatra)
Weddings under these Nakshatras are known to bless the bride and groom with happiness, sympathy, mutual affection, as well as sons, grandson, and wealth. It is important to note, however, that the first and last quarters of Magha and Moola are inauspicious. Marriages during this period are said to end in death. It is also believed that Lord Rama married Goddess Sita during Uttara Phalguni, and the couple had to face many hardships in their marriage.
---
Marriage-Prohibited Yogas
Among the 27 yogas, there are 8 that are considered to be inauspicious for March
Atiganda (6th Yoga)
Shula (9th Yoga)
Ganda (10th Yoga)
Vyaghata (13th Yoga)
Vyatipata (17th Yoga)
Parigha (19th Yoga)
Indra (26th Yoga)
Vaidhriti (27th Yoga)
During the above-mentioned Yogas, it is believed that the bride and groom will die before their wedding. In addition to the severe effects of these Nitya Yogas, the wife may also suffer from diseases, or the groom may engage in inappropriate activities such as drinking or eating meat.
Aside from these 8 yogas, there are 19 other yogas considered sacred for marriage ceremonies.
---
The auspicious days for marriage
It is considered favorable to select a marriage date in 2022 from Monday, Wednesday, Thursday, or Friday, whereas Tuesdays are considered unlucky.
The auspicious and inauspicious marriage tithis
Favorable – Dwitiya, Tritiya, Panchami, Saptami, Ekadashi, and Trayodashi
Unfavorable – Navami, Chaturdashi, and Chaturthi
Karnan
The following four Karanas should be avoided during a wedding ceremony:
Vishti
Shakuni
Chatushpada
Naga
Karanas that are auspicious include:
Kinstughna
Bava
Balav
Kaulava
Taitila
Gar
Vanija
Lagna or Ascendent
It is important to consider the ascendant, also known as the rising sign or Lagna, when planning a successful marriage. The Marriage Muhurat in 2022 must be selected according to the auspicious ascendant, since a marriage performed during an inauspicious Lagna can result in devastating effects such as job loss, adulterous wives and unstable marriages.
Gemini, Virgo, and Libra are considered the most auspicious ascendants for marriage.
Venus and Jupiter
Before getting married, Venus (Shukra Tara) and Jupiter (Guru Tara) must be taken into account. In the case of Jupiter and Venus combusting, most sacred activities, including marriage, should be avoided. As a result, Vivahs cannot be performed at this time.
Vivah or Marriage Muhurat In 2022 is an informative article that we hope proves helpful for your future endeavors. It is a pleasure to connect with you!
Frequently Asked Questions (FAQs)
Which Nakshatras is good for marriage?
Rohini, Mrigashirsha, Magha, Uttara Phalguni, Hasta, Swat, Anuradha, Mula or Moola, Uttara Ashadha, Uttara Bhadrapada, and Revati have all been considered auspicious for marriages.
What happen when i married even when our kundli does not match?
According to traditionalists, it is a factor that affects the harmony between a couple in their marriage.