In this article you can check monthly horoscope of August 2022 for Zodiac Signs Aries, Taurus, Gemini, Cancer, Leo, Virgo, Libra, Scorpio, Sagittarius, Capricorn, Aquarius, Pisces.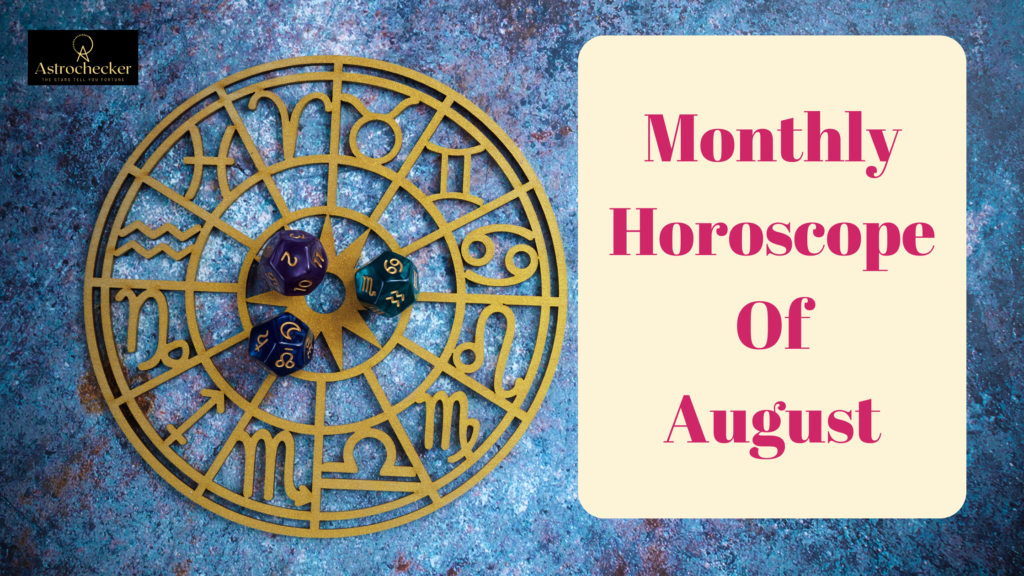 Aries Monthly Horoscope:
There is a lot of work ahead of you, so you need to focus on your professional goals. Keep your potentially hasty and rash actions to a minimum whenever possible. The support and attention you need from your family will be provided to you. Don't miss this opportunity to put away as much extra money as you can.You can release pent-up negative energy by participating in any sport.
Taurus Monthly Horoscope:
Money has been put aside for a challenging period, which is a wise move; however, now is the time to indulge in your more frivolous tendencies without feeling guilty. If you have been wronged even slightly, don't further harm them. Maintain an attitude of respect and humility at all times. Professional opportunities will soon become available.
Gemini Monthly Horoscope:
It will be worth it to put in the effort you have. The more original your ideas are, the more praise you will receive at work. As a result, you will gain self-confidence and discover a new source of income. Your actions will boost the business of your family. There will be an expansion of the scope of your current tasks as well as a resolution of property-related issues. It is likely that you will be able to purchase a home. Your relationship will reach new heights if you're in love.
Also Check: Free Daily Horoscope 2022 Today Know Your Fortune
Cancer Monthly Horoscope:
Don't let your expectations get carried away if you don't want to set yourself up for disappointment. When you're committed, your partner may begin to feel unwanted because of your busy schedule. If you are single, you can expect a romantic connection to develop that will ignite your passion. Work may require you to travel, which can provide new career opportunities.
Leo Monthly Horoscope:
The importance of self-reflection must eventually be balanced with the need to move forward. Put your thoughts into action if you find yourself spinning your wheels. Put what you've learned to use. There is no shame in not knowing everything or in not having the perfect strategy. See where your feet take you if you just get moving. Be in control of your life and pursue your goals with all your might.
Virgo Monthly Horoscope:
This is an excellent opportunity for you and your colleagues to brainstorm new project ideas. Small business owners should prepare to expand their businesses. Whether you're married or not, your love life will remain harmonious. You'll also have plenty of time for your children. Investing in real estate at this time is a good idea. There will be a supportive and jovial family environment.
Libra Monthly Horoscope:
All of your difficulties can be solved through communication. Rather than keeping things inside, have a conversation with those who matter to you. Do not impose your will on others; instead, show care and consideration. Your chances of hearing good news are good if you have been trying to start a family. There is the possibility of making large investments. Having a variety of sources of income may allow you to earn a substantial income.
Scorpio Monthly Horoscope:
It is common to have disagreements in both the workplace and the family. The media and publishing industries are in a great place at the moment to work on projects. It is possible to make choices regarding ancestral property on your behalf. Your family will grow and change, and you will have to take on more responsibilities. It will be difficult for you to balance your work and home lives. Make your plans ahead of time to broaden your horizons.
Sagittarius Monthly Horoscope:
You should handle your relationships logically and carefully. It may be necessary to make some modifications or concessions in order to maintain a healthy relationship. Improve your communication with family members and close friends. Putting your ideas into action is the right thing to do at this point. Think differently and come up with a better plan to accomplish what you want.
Capricorn Monthly Horoscope:
You must concentrate on your job for the time being. You will reap the benefits of your effort in the long run if you put in the effort now. There will be a great deal of attention paid to the specifics, and your superiors will expect you to deliver. It may be necessary for you to work under tight deadlines. For encouragement and support, you can rely on your family and friends. There will never be a time when they let you down. Whenever you need them, be thankful that they are there.
Aquarius Monthly Horoscope:
Maintaining a healthy financial position is crucial. Investing in your future is the only way to ensure it. Saving money together with your romantic partner is possible. You and your loved ones will experience a lot of happiness during this time. Both in your professional and personal life, you will be able to make better decisions. By doing so, you'll gain more self-confidence and have a better chance of getting promoted.
Pisces Monthly Horoscope:
You'll be able to control your life to the fullest extent, making you happy and content. The people in your family know how to make you smile, so you can count on them to organise a get-together. Get ready to welcome a new family member. If you are single, now is the time to consider marriage options. Taking work seriously requires more effort on your part.